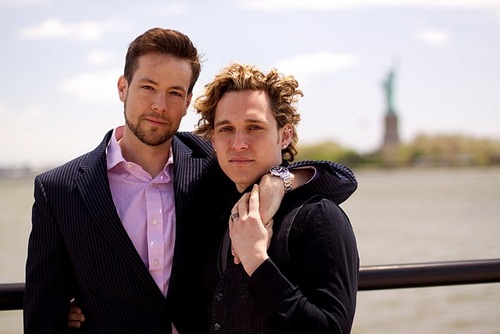 If you have been following the news, Henry Velandia was facing deportation even though he is married to an American, Josh Vandiver. Earlier this year, Henry's case was put on hold - yesterday, his deportation was suspended! This is an amazing breakthrough for same-sex binational couples, and all those working to repeal DOMA.

BACK-TO-BACK EVENTS IN JULY
As Pride Week comes to a close, Out4Immigration, Marriage Equality USA, GetEQUAL and Stop the Deportations Project are busy again prepping for two back-to-back events in July. If you live in the Bay Area, we hope you can come out and join us!
"United by Love, Divided by Law - How DOMA Impacts Same-Sex Binational Couples"
July 12th, 6pm - 7.30pm
San Francisco Public Library, Main Branch (Civic Center BART/MUNI)
100 Larkin St, San Francisco, CA
For the first time ever, Out4Immigration is proud to be organizing an event with the San Francisco Public Library's James Hormel LGBT Center titled "United by Love, Divided by Law - How DOMA Impacts Same-Sex Binational Couples". The event listing can be found on Facebook (you do not have to be a member of Facebook to see the details as it is a public event).
Come out and hear from Attorney Lavi Soloway (Stop The Deportations Project), Attorney Ilona Turner (National Center for Lesbian Rights), Judy Rickard (Author, Torn Apart) and listen to stories from same-sex binational couples as they discuss this very important topic!
Rally In Support of Doug & Alex
July 13th, 7.30am
120 Montgonmery Street
On July 13th, 2011 in San Francisco, Alex Benshimol and Doug Gentry, a married California couple, will face every same-sex binational couple's worst nightmare: a deportation hearing. As anyone following this issue knows, for years there has been little hope for same-sex binational couples seeking to reside together in the US. Many are legally married like Alex and Doug, but are still treated as legal strangers in the eyes of our own government.
Out4Immigration is co-organizing this event with Marriage Equality USA (MEUSA), Stop The Deportations & GetEQUAL on July 13th, the day after the library event, in support of Doug & Alex as they head into the immigration courts for their deportation hearing.
For more information about Doug & Alex - you can read their story here: http://stopthedeportations.blogspot.com/2011/06/doug-alex-face-doma-deportation-hearing.html
Doug and Alex are also featured in our Change.org petition this week! http://www.change.org/petitions/save-doug-and-alexs-marriage-and-stop-deporting-our-spouses
Complete details and the event listing can be found on Facebook. We hope you can turn out in support of Doug and Alex as they walk into the court house for their deportation hearing!
After the historic victory of Josh and Henry yesterday, we need to keep the pressure up and ensure that no LGBT families will be broken apart because of a discriminatory federal law called DOMA!
VISIT THE
O4I BLOG
TO READ ABOUT OUR WORK AND ACTIONS TO END DISCRIMINATION AGAINST SAME-SEX BINATIONAL COUPLES.
Online activism: Sign our weekly petitions at
change.org
urging Congressional and Executive Support of Equal Immigration Rights for Same-Sex Binational Couples! We got a total of 12 new co-sponsors since the bill, Uniting American Families Act (UAFA) has been introduced on April 14th .
Devote Campaign - Out4Immigration: Did you see the video about Out4Immigration's volunteers that was shot by Devote Campaign recently? Check it out
here
!
Stay tuned: To our
Yahoo! Groups list
,
Facebook
page or follow us on
Twitter
to keep up with breaking news and urgent actions. It seems something is happening to tear down the barriers same-sex binational couples face every day. Be a part of the change!