OBAMA ADMINISTRATION ISSUES WRITTEN DEPORTATION GUIDELINES FOR SAME-SEX BINATIONAL COUPLES
It took us more than a year, but on October 5, same-sex binational couples achieved a long awaited victory. For the first time for immigration purposes, our relationships have been defined as family -- making the foreign partner in a same-sex binational relationship a low-priority for deportation due to his/her marriage, civil union or domestic partnership with an American citizen.

In 2011, the U.S. Immigration & Customs Enforcement (ICE) agency issued a memo that stated law-abiding undocumented immigrants who could prove a family relationship with an American citizen would be classified as low-priority for deportation. While the agency implied same-sex couples were "family", without us being formally defined as such in writing, each ICE agent could make his/her own decision about whether our families were legitimate. An agent could cite the Defense of Marriage Act (DOMA) and determine a same-sex couple were "legal strangers". Or, they could look to the Obama Administration''s declaration that DOMA was unconstitutional.

Not sure what this latest development means to you?
See Lambda Legal''s FAQs for Same-Sex Binational Couples.

When a couple is faced with deportation, with having their partner forcibly taken away from them, leaving such vagueness around the definition of family was simply unacceptable.

Out4Immigration, along with other organizations and advocates, was at the forefront of urging our members to tell our stories, sign petitions to the Department of Homeland Security and write to House Minority Leader Nancy Pelosi, who along with our long-time champion Rep. Jerrold Nadler, spearheaded the campaign to get our relationships formally included in these guidelines. It's a job well done, and gives our movement momentum for big changes in 2013. With the hope that immigration reform can proceed after the election it appears to be only a matter of time until the next logical step, including our relationships as family for immigration purposes at large should occur. We can also be hopeful that the Supreme Court will strike down DOMA. But before we can get to these next steps in full federal equality, all of us who are eligible, must vote on November 6!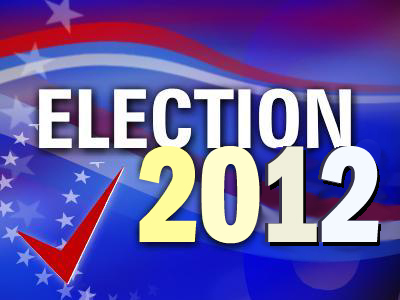 NOVEMBER 6 IS ELECTION DAY
Out4Immigration urges all who are eligible to vote to exercise your right and make sure you vote on November 6. Need clarification on who supports us in Congress? The Human Rights Campaign (HRC) scorecard for the 112th Congress has just been released. Click
here
to view.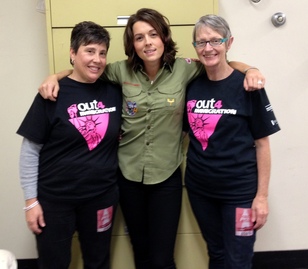 SINGER BRANDI CARLILE AND
LOOKING OUT FOUNDATION DONATE $1,000 TO OUT4IMMIGRATION
A huge thank you to singer Brandi Carlile and her
Looking Out Foundation
for making a generous $1,000 donation to Out4Immigration.
Earlier this year, the Looking Out Foundation invited Out4Immigration to attend Brandi''s concert at Humboldt State University, distribute our materials and talk to concertgoers about same-sex binational couples. Our volunteers Kathy Drasky and Viki Forrest (shown here) met with Brandi after the show and struck some common ground. It turns out Brandi is in a same-sex binational relationship, too. And, in September she married her partner Catherine in a ceremony in Massachusetts.
Donations to Out4Immigration are used to print our pamphlets and stickers, to pay for booth space and attendance at Pride events and conferences and to allow some of our volunteers to travel to Washington DC, like Amos Lim did this summer when he hand-delivered our petitions to the White House. It was these petitions that were part of the victory in getting our families written into the deportation guidelines mentioned above.
Make your donation to Out4Immigration today.
Click here now
.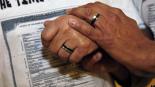 "GAY BINATIONAL NIGHTMARE" ON HUFFPOST LIVE
Out4Immigration volunteer Erik Schnabel, Torn Apart author Judy Rickard and Stop the Deportations client Brian Willingham were among those telling their stories on a HuffPost Live videocast "Gay Binational Nightmare" earlier this month.
Listen here
.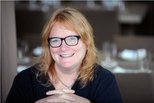 INDIGO GIRL EMILY SALIERS WANTS TO STAY IN THE U.S. WITH CANADIAN PARTNER
Looks like Brandi Carlile is not the only singer in a same-sex binational relationship. Emily Saliers, one half of the Indigo Girls, has just made a video asking President Obama to help her be able to stay in the U.S. with her Canadian partner.
Watch here
.
TELL YOUR STORY
Have you submitted your photo to our
United by Love Divided by Law Tumblr Blog
yet? This visual protest is a simple and easy way to add your name and face to the growing number of same-sex binational couples speaking out for immigration and marriage rights that would allow gay and lesbian Americans with foreign partners sponsor them for a green card. Are you currently in the U.S. together because of a work or student visa? Are you living in exile? Are you separated by these unjust laws? Are you living under the radar and in fear of deportation? You are not alone. Visit
UBLDBL
and share your story.
Please Make a Donation to Out4Immigration
Why Donate to Out4Immigration?
We are an all-volunteer, grassroots organization – and we rely on your kind donations throughout the year to help us stand with our allies GetEQUAL and Stop the Deportations. We march in parades, attend conferences and speak at community events. Every time we make contact with someone, we share our printed materials like our stickers and fact sheets to let people know who we are, the challenges we are facing and what needs to change so that all loving and committed couples have the same rights and opportunities to live their lives together.
Any donation by you will be used to increase our presence – at events and online – until we have full federal equal immigration rights.
---
VISIT THE
OUT4IMMIGRATION BLOG
TO READ ABOUT OUR WORK AND ACTIONS TO END DISCRIMINATION AGAINST SAME-SEX BINATIONAL COUPLES.
*******
THANKS TO ALL OUR VOLUNTEERS!
Out4Immigration is an all-volunteer, grassroots group. Everything we do comes about from people volunteering their personal time - to build coalitions with their communities, to get resolutions and letters in support of UAFA, to speak at conferences and rallies, to staff booths at events, to organize events and march in parades. Thank you all for stepping up. It is your commitment to this cause that will ultimately end discrimination in US immigration law.